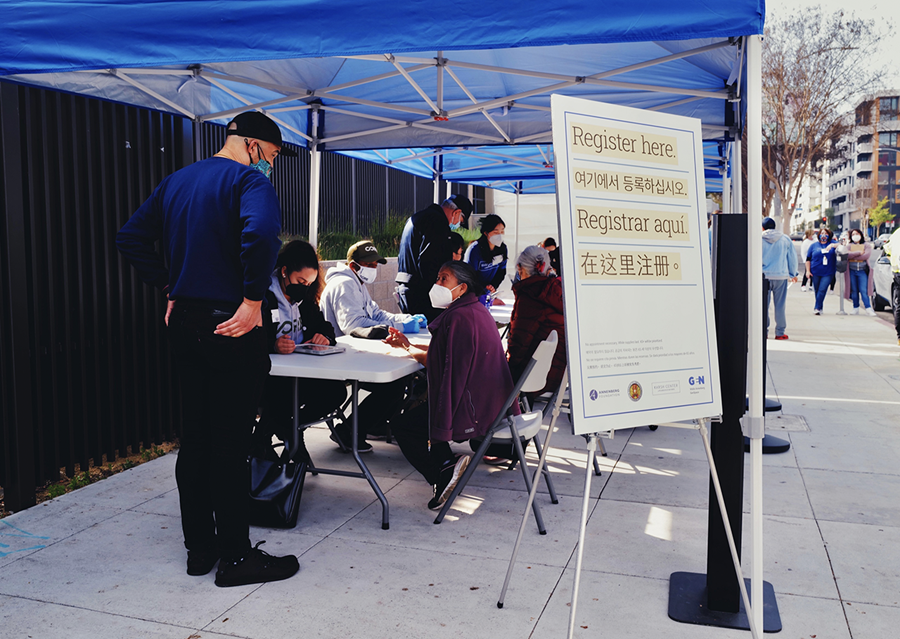 To our Friends, Grantees, Partners, and Members of the Community:
We hope we find you in a season of hope and beauty this Spring 2021, and we send you best wishes for wellness and brighter days ahead.
We all know that this has been a long and challenging period – trying to stay healthy (physically and mentally), caring for loved ones, and doing all we can to help each other during this unprecedented COVID-19 pandemic. This painful period has truly exacerbated the stark and growing inequality in our region and the world, something that is and has been long embedded in the minds and actions of our Chairman, President, and CEO Wallis Annenberg, our Board of Directors, and all of us at the Annenberg Foundation.
Together, we are at work on many fronts to help our beloved Los Angeles community – and beyond – to pick up the pieces and emerge stronger from the Coronavirus pandemic, particularly those who have been hardest hit – the elderly and Angelenos in under-resourced communities.
We'd like to share what we've been doing since January 2021 to help bridge these enormous gaps and address the systemic challenges, as well as our focus in the future.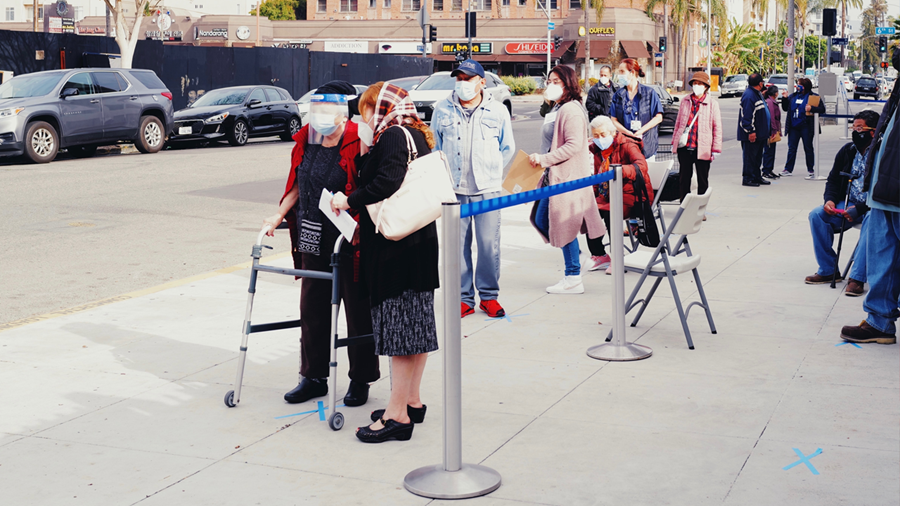 LOOKING TO THE HORIZON: COVID-19 RECOVERY

One of the areas in which we feel philanthropy can make an impact is equitable vaccine distribution – getting vaccinations to under-resourced communities and the elderly – and we have been working on this for many months. We are also working hard on reducing food insecurity and helping students who are falling behind – addressing the tremendous learning loss due to the pandemic.


Vaccination Clinics in South LA – It has been well documented that those living in under-resourced areas of our city lag far behind in receiving COVID-19 vaccinations. Fortunately, there are impactful organizations working tirelessly to address that need. We partnered with Kedren Health and Shared Harvest – along with the Wasserman Foundation, Hilton Foundation, and Weingart Foundation – to support pop-up, mobile, and walk-up clinics for South LA community members. More than 90,000 people have been vaccinated due to the work of these great organizations. We are also grateful and proud to support St. John's Well Child and Family Center's critical new County-wide COVID-19 vaccination initiative aimed at improving vaccine equity by targeting low-income Black and brown people living in under-resourced communities.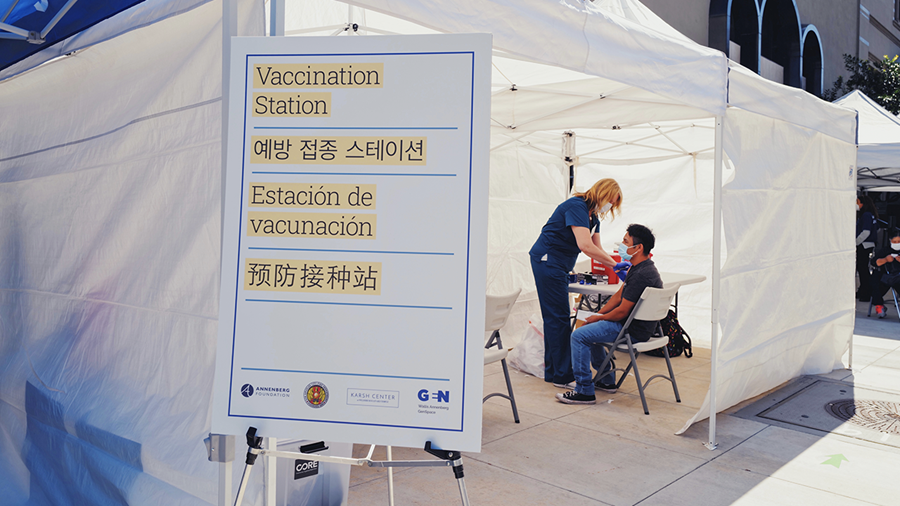 Vaccination Clinic for the Elderly in Koreatown – In Koreatown, only 42% of residents ages 65 and older have received at least one dose of the COVID-19 vaccine, compared to 75% of older adults in more affluent communities in LA. We partnered with the Karsh Center, the Los Angeles Fire Department (LAFD), and the new, soon-to-be-opened Wallis Annenberg GenSpace for an age and language friendly site, which vaccinated more than 115 older adults and other eligible caregivers and family members. At opening, the vaccination clinic attracted a line of older Koreatown community members eager to receive their vaccination. A 104-year-old neighbor even came to get her vaccine!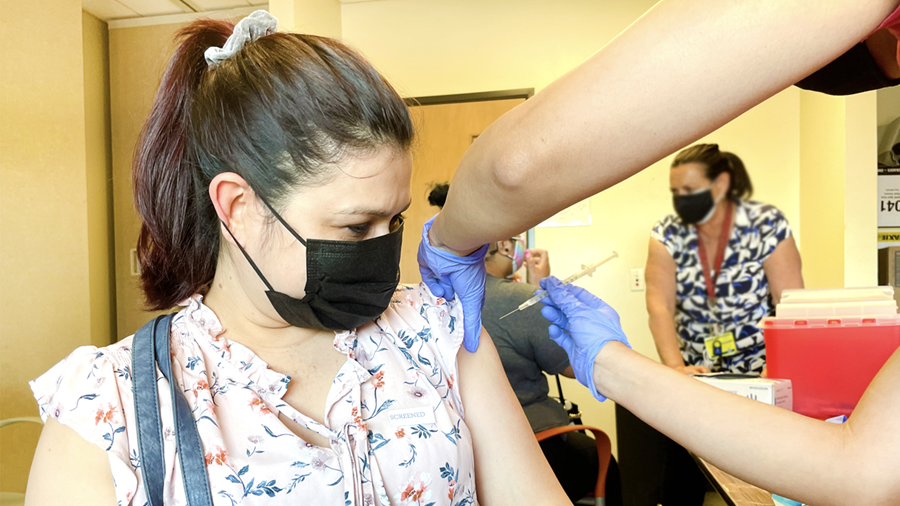 Supporting Critical Vaccine Clinic in NE Los Angeles – Given that the Pacoima community in Northeast Los Angeles has some of the highest numbers of COVID-19 cases in the County, one of our Foundation's vice presidents and directors, Gregory Annenberg Weingarten, and GRoW @ Annenberg are honored to support the Northeast Valley Health Corporation – which is partnering with City Councilwoman Monica Rodriguez – in their efforts to reach and vaccinate Pacoima community members.
 
LA County COVID-19 Working Group – Since December, the Annenberg Foundation has been an active member of the LA County COVID-19 Working Group. Our Senior Director of Programs and Grants, Marsha Bonner, sits on both Ensuring Equity and Effective Communications Committee and the Community-Based Partnerships Committee.
 

Creation of LA County Food Equity Roundtable – For many months, we have been working with the California Community Foundation to help focus LA County on the growing issue of food insecurity. We are happy to report that the LA County Board of Supervisors approved a motion in February to address food insecurity through the creation of a County Food Equity Roundtable, which will include Annenberg Foundation, along with a group of philanthropic and community stakeholders. This is the first time the County will have a committee squarely focused on food insecurity.



Tutoring Support for LAUSD Students – Since the start of the pandemic and online schooling, many students have been struggling and at risk of falling behind. Sadly, this learning loss has been unprecedented. Therefore, Annenberg Learner and AnnenbergTech are partnering with the Los Angeles Unified School District (LAUSD) and Step Up Tutoring to offer free virtual mentoring and tutoring to LAUSD students. Research shows that students of color are at higher risk of falling behind than white students, and it's estimated that low-income students will experience over a year of learning loss. Tutoring is one of the most effective ways to increase achievement for students from lower income families. More than 150 LAUSD students in grades 3-6 are waiting for a tutor. If you're interested in becoming a volunteer, please join us (stepuptutoring.org/annenberg)!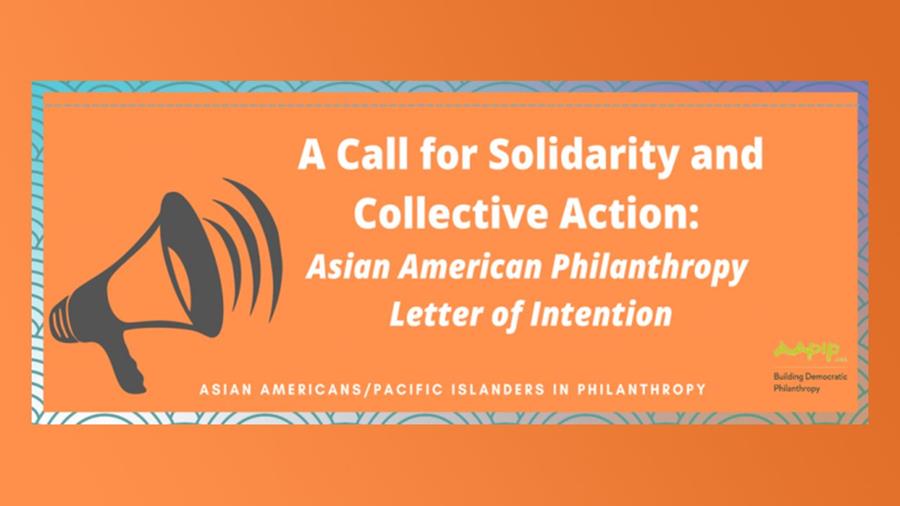 SOCIAL JUSTICE: UNITED THROUGH PHILANTHROPY


Solidarity with AAPIP – Following an increase in violence directed against Asian Americans and the tragic shooting in Atlanta this month, the Annenberg Foundation joined nearly 500 other philanthropic leaders and signed onto a letter of intention. This call for solidarity and collective action to support the Asian American and Pacific Islander community was created by Asian Americans/Pacific Islanders in Philanthropy (AAPIP). The letter of intention serves as a commitment to expanding support, as well as forging key partnerships with the AAPI community, government agencies at all levels, companies and business leaders, educators, and nonprofit organizations.
 
Partnering with the CA Black Freedom Fund – In February, we joined together with other philanthropic organizations and funders in supporting the California Black Freedom Fund, a new $100 million initiative completely dedicated to Black power-building in California. Over the next five years, the California Black Freedom Fund will strategically increase the resources available to Black-led organizations throughout California with grantmaking and capacity building support.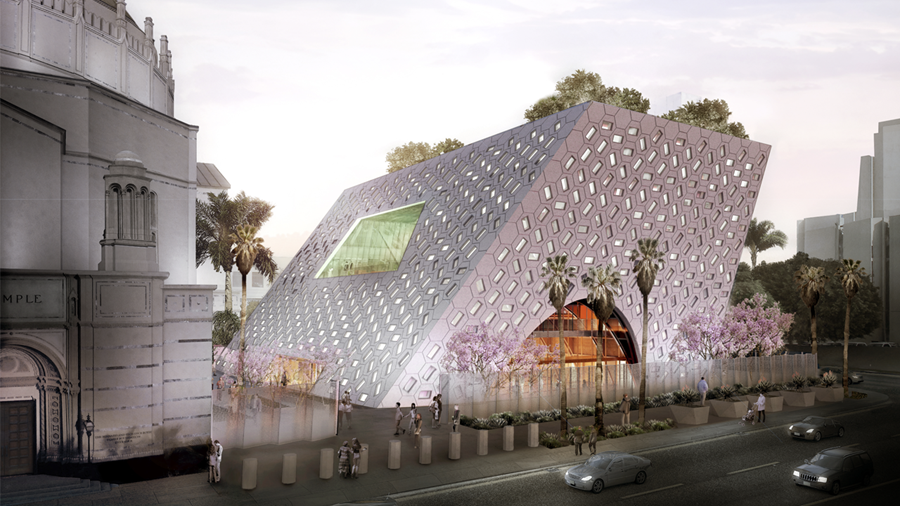 LOOKING FORWARD
Although we know there is still much work to be done to mitigate the impacts of the pandemic, we are hard at work on many other fronts.


Longevity and the New Aging: Wallis Annenberg GenSpace – We are delighted to report that construction is nearing completion on GenSpace, our vibrant, tech-forward community space for older adults located in Koreatown. We will launch virtual programming, along with GenSpace's new website, in June. And we look forward to welcoming you in person at GenSpace later this Fall! We believe – along with our partners – that there are few issues as relevant and in need of focus than aging and longevity. We are thrilled to host intergenerational programs and conversations that will aim to change the way we view aging.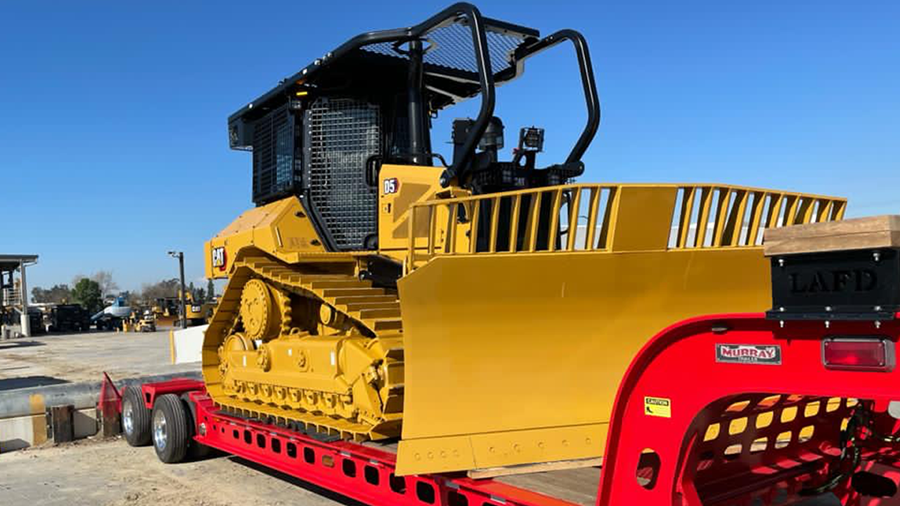 Disaster Equipment for LAFD – Given that LA's 2021 fire season is already shaping up to be incredibly challenging, one of our Foundation's vice presidents and directors, Lauren Bon, recently supported the Los Angeles Fire Department Foundation around the purchase of badly needed equipment, including a D5 bulldozer, which will help in the critical task of clearing brush to help mitigate the spread of wildfires.
 
Equity and the Tech Community: PledgeLA Third Annual Venture Capital Internships – AnnenbergTech's PledgeLA is kicking off its third annual summer of the Venture Capital Internship program in partnership with HBCUvc. Nearly 50 leaders from the PledgeLA community volunteered to score more than 275 applications. Volunteers hailed from organizations like Bonfire Ventures, March Capital, Greycroft, Snap, and TikTok! Approximately 40 finalists will be identified for video interviews with the ultimate goal of landing a full-time summer role at VC firms like Backstage Capital and M13.
 

Equity at the Super Bowl in Los Angeles: CHAMPIONS LIVE HERE – In 2022, Los Angeles will host the 56th annual Super Bowl. As a member of the Los Angeles Super Bowl Host Committee, our Annenberg Foundation Executive Director, Cinny Kennard, will help select 56 "unsung hero" grassroots organizations and nonprofits who are making a transformative impact in underserved communities across the Los Angeles region. Each of the selected champion organizations will receive a $10,000 grant award, a professionally produced marketing video spotlighting their organization, and public recognition of their work in the lead up to the Super Bowl. Additionally, six of these organizations will be selected to each receive a total grant award of $50,000, to make an even bigger impact in their community.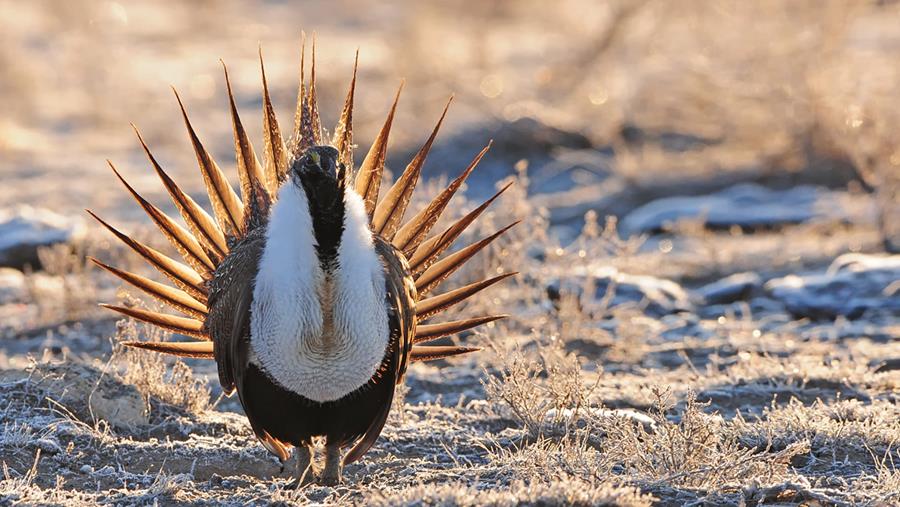 Finally, we'd like to share with you a fun window into nature from one of our Foundation's vice presidents and directors, Charlie Annenberg Weingarten, whose explore.org recently partnered with TikTok for "Bird Week" which brought viewers a curated week-long bird takeover. The 24/7 live stream featured fan-favorite bird cams and a series of panel discussions with researchers, ornithologists, and speakers from Raptor Resource Project, Aquarium of the Pacific, Owl Research Institute, and the National Audubon Society.
We believe that all these activities – and more – speak to a bright future ahead! Wishing you good health and better days.
All my best,

Cinny Kennard
Executive Director
The Annenberg Foundation