This past weekend, thousands took part in WalkUnitedLA, a 5k walk / run at SoFi Stadium in Inglewood to help break the cycle of poverty. Colleagues from the Annenberg Foundation, Wallis Annenberg GenSpace, Wallis Annenberg PetSpace, Annenberg Learner, and AnnenbergTech came together to join in on the walk and provide support for this important event.
United Way of Greater Los Angeles, the Los Angeles Rams, local community and philanthropic organizations and businesses, and over 5,800 participants (both virtually and in-person) raised close to $800,000, thanks in part to a funding match by event sponsors. WalkUnitedLA brought communities together from across the region to help end homelessness, provide equitable and quality education to all students, and ensure greater economic mobility and increased access to opportunities for working families and individuals.
WalkUnitedLA evolved from United Way of Greater Los Angeles' flagship event, HomeWalk, the single largest annual event to end homelessness across the nation. Since 2007, this annual event has united Angelenos supporting bold solutions to end poverty. Over the years, more than 125,000 people from across Los Angeles County have raised over $9.5 million to end homelessness for over 20,000 of our unhoused neighbors.  
The Annenberg Foundation has helped to sponsor and organize the event for the past three years. Most recently, Wallis Annenberg GenSpace and Wallis Annenberg PetSpace volunteers treated attendees to goody bags full of treats and resources, while the AnnenbergTech team distributed free Thermos water bottles to walkers and runners. Also attending the Annenberg Foundation booth was one of PledgeLA's South LA Founders – Jon Kennard of Coffee Del Mundo – who gifted WalkUnitedLA participants with bottles of his original brewed coffee. Before the race, Annenberg Foundation Executive Director Cinny Kennard offered remarks about the potential of Los Angeles as the city recovers from the COVID-19 pandemic.
So far, the United Way of Greater Los Angles has moved 45,000 people out of homelessness and into safe homes, increased the college-ready graduation rate by 5.2%, and secured over $11M in tax returns for low-income households across L.A. County.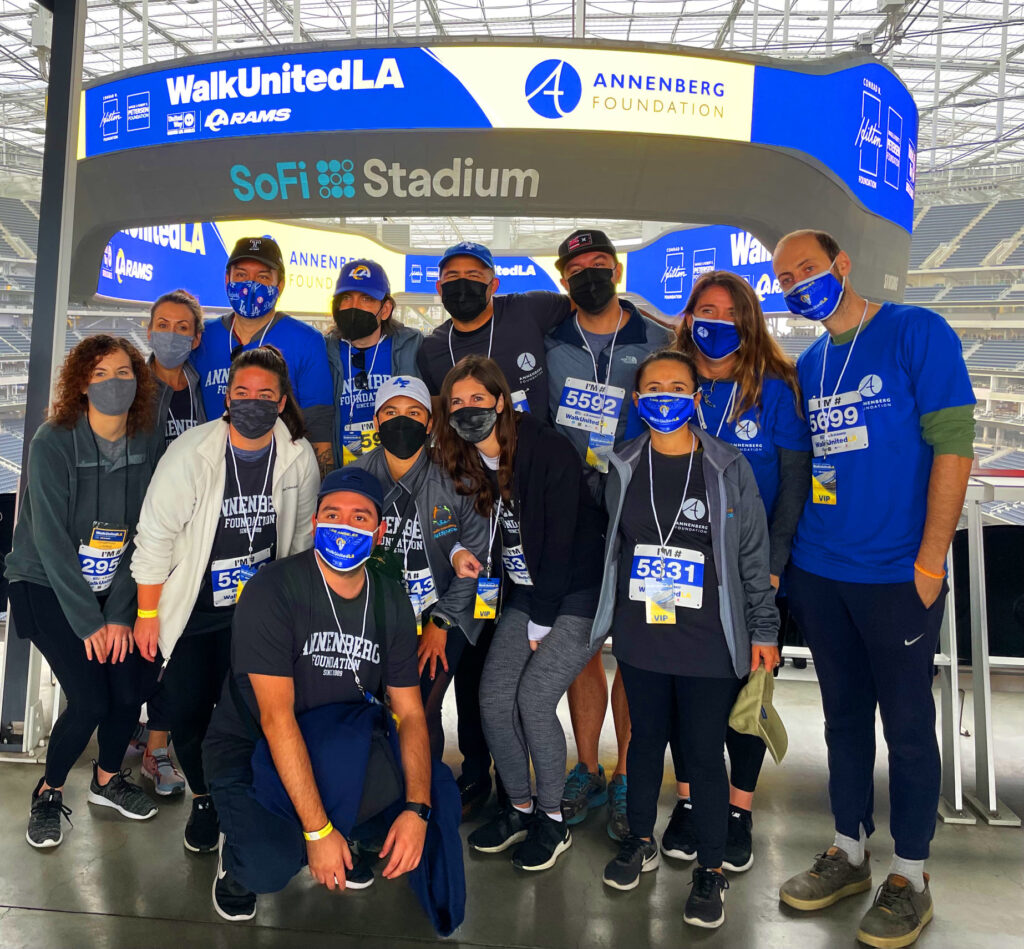 "Aligned with our vision to unite the community, it was fitting that the new home of the Los Angeles Rams could also serve as the new home for WalkUnitedLA and this tremendous example of what is possible when we come together."