The Annenberg Foundation helped plant the first of four micro-forests in Los Angeles as part of a multi-forest donation to the Los Angeles Parks Foundation.
Annenberg Foundation Executive Director Cinny Kennard joined Councilmember Marqueece Harris-Dawson at St. Andrews Recreation Center in South LA to highlight the benefit the trees will bring the community.
"We're proud to be a part of this effort to create more shade and fresh air – everyone should be able to enjoy natural open spaces like this. Conservation is a top priority for the Annenberg Foundation and micro-forests like this help us build a more sustainable future."
With the help of the LA Parks Foundation, 12 trees were planted in St. Andrews Recreation Center and a plaque was unveiled to commemorate the donation.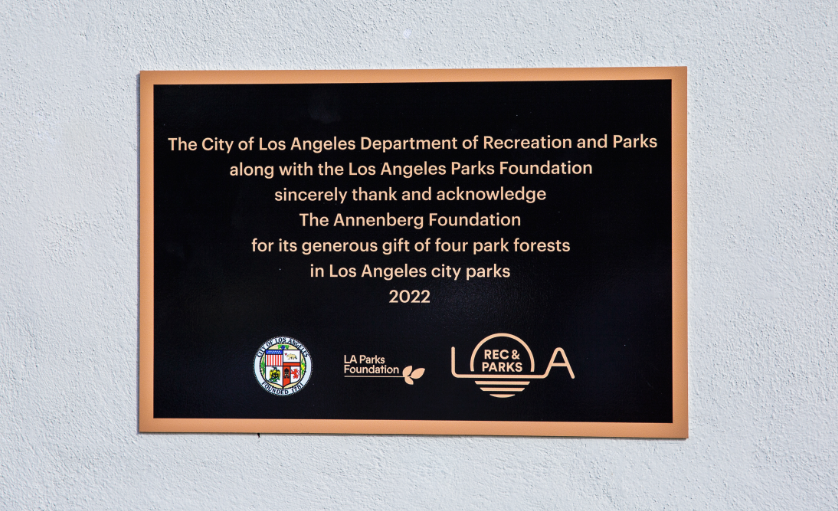 Councilmember Harrison-Dawson and LA Parks Foundation Executive Director Carolyn Ramsey both emphasized the importance of growing the city's urban canopy, especially in under-served areas that don't have a lot of shade. 
Trees reduce heat, but also help clean the air and foster native wildlife habitats. Thanks to the Annenberg Foundation's donation, another three micro-forests will be installed at MLK Park, Branford Recreation Center, and Glassell Park in the next few months. 
The donation will contribute to the LA Parks Foundation's "Park Forest" initiative, which aims to plant 10 micro-forests throughout the city every year to close the climate gap.
Learn more about LA Parks Foundation's "Park Forest" initiative →