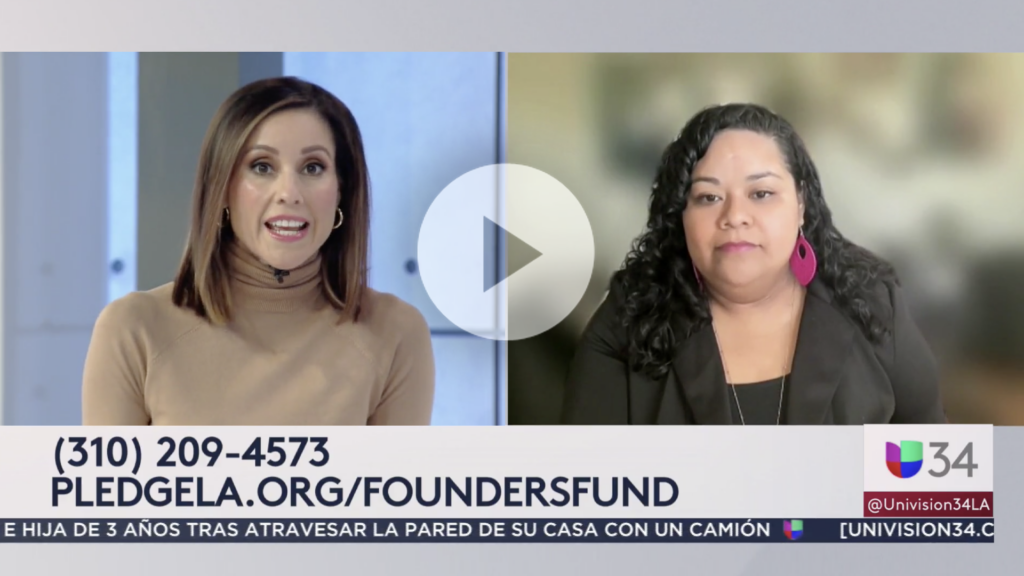 The leading TV station in LA, Univision 34, featured PledgeLA's Founders Fund several times this month to highlight the opportunity it provides Latinx and Black entrepreneurs.
PledgeLA provides $25,000 in non-equity funding to 20 Latinx and Black business owners in LA County annually through its Founders Fund. In addition to the funding, founders receive 12 weeks of training and mentorship to help sustain and grow their businesses.

Nearly half of LA's population is Latinx, but there are far fewer Latinx business owners in the city, which is why the Founders Fund program is so valuable. Univision reporters spoke live with PledgeLA's Partnerships Chair Elianne Rodriguez to spread the word about the program. 
"We know that Latino entrepreneurs have more challenges and those challenges are unique. But we also have strengths and we're focused on providing support to help people open more businesses in their own communities."
After receiving the $25,000 in non-equity funding and training/mentorship, last year's Founders Fund cohort raised an additional $10 million –  25% of the businesses were Latinx-owned. Keep an eye out for more coverage from Univision about Founders Fund ahead of the April 10th application deadline. Twenty new companies led by Latinx and Black entrepreneurs will be selected to receive $25,000 in non-dilutive funding and accelerator training from Grid110.

Check out the PledgeLA Founders Fund website for application information, upcoming workshops, and more.