SOUTH LOS ANGELES, CA – On Wednesday, November 13, 2019, nonprofit Clifford Beers Housing, along with the Annenberg Foundation, The City of Los Angeles, and American Family Housing, will hold a groundbreaking celebration for Isla Intersections. Isla will provide 53 apartments for individuals who have experienced homelessness, with 10 of these reserved for homeless military veterans.
The innovative approach to housing, designed by Lorcan O'Herlihy Architects, will be constructed from shipping containers. A shared street called the Annenberg Paseo, designed to increase traffic safety will be lined with community-serving commercial spaces. The Paseo will also feature a "living lung" – lush landscaping and a tree canopy to help purify the air and reduce pollution.
All of these factors make Isla Intersections the first of its kind in Los Angeles. Expected groundbreaking speakers include Los Angeles Mayor Eric Garcetti, Los Angeles City Councilmember Marqueece Harris-Dawson, and Wallis Annenberg, President and CEO of the Annenberg Foundation.
"We have always believed that we have to help find solutions to the homelessness crisis. We are so pleased to be part of this innovative approach to housing which will also provide homes for our veterans," says Wallis Annenberg, President and CEO of the Annenberg Foundation. "Los Angeles is in a housing crisis and Isla Intersections is designed to provide housing and provide it quickly. It won't just be a place where people live, but an active and engaging community where residents can succeed."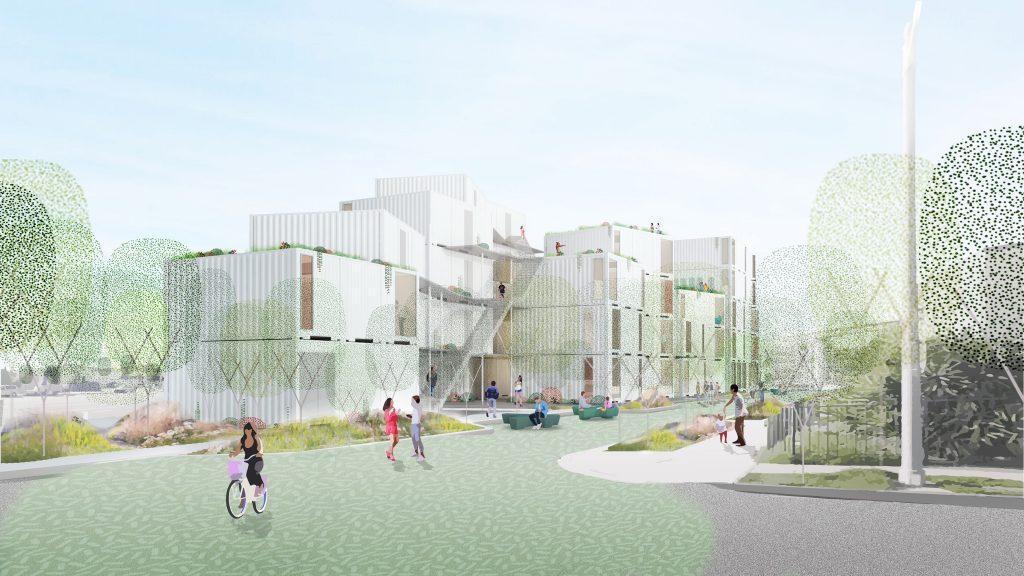 Typical multifamily built construction takes 18-24 months today. Isla Intersection's total construction time is estimated to take 12 months. Each apartment will be comprised of three shipping containers that after delivery will be erected on-site within a remarkable 30-day time period. This speed is critical for reducing costs and promoting innovative and replicable models that can provide homes for the 60,000 people experiencing homelessness today in Los Angeles County.
"If we want to confront the homelessness and housing crisis over the long run, we have to harness innovative solutions that bring unhoused Angelenos indoors immediately," says Mayor Eric Garcetti. "Isla Intersections shows us what's possible when we scale to build the supportive and affordable housing homeless Angelenos urgently need and deserve."
Isla will help bring the community together by including the shared street and public space. Just north of Harbor Gateway, Athens Way between W. 113th Street and Imperial Highway is an ideal space for the shared street, which will reduce vehicular speeds to 5 miles per hour, improving neighborhood safety. The Annenberg Paseo will function as a central hub, creating space for long-time members of the community to use for weekend events such as street fairs, pop-up markets, and entertainment within a quarter mile of high-frequency bus lines and light rail. The Paseo's verdant landscape, comprised of trees and irrigated by a greywater system, will reduce air, noise, and light pollution from the surrounding freeways.
"Isla will be the first of its kind in South Los Angeles and punctuate a series of capital project investments designed to improve the quality of life for residents," says Los Angeles City Councilmember Marqueece Harris-Dawson."This project is the exclamation point to street improvements along Broadway and Imperial. It is exciting to see Proposition HHH, a measure I introduced, being used to build housing that addresses long-standing issues."
The development also serves to address some of the needs of local residents. Onsite supportive social services such as job training, mental health services, counseling, and life skills will be provided. Isla lies at the southern tip of the Broadway/Manchester corridor improvements, another equity project spearheaded by Los Angeles City Council District 8.
"We believe that Angelenos of all income levels should be able to live in a beautiful and affordable home in a healthy, connected, and prosperous community," says Cristian Ahumada, Executive Director of Clifford Beers Housing. "The Annenberg Paseo will provide much needed park and green space in the area and will serve as an example for how cities can develop vibrant and healthy communities next to freeways."