Wallis Annenberg GenSpace was honored to welcome Hollywood icons Jane Fonda, Lily Tomlin, Sally Field, Billy Porter, and producer Donna Gigliotti to celebrate their hit movie 80 for Brady and to talk about the importance of positive portrayals of older adults on-screen.  
With more than 230 writers, storytellers, GenSpace members, and LA sports executives in the audience, the panel discussion focused on telling stories that center the experiences of older adults. 
The cast of 80 for Brady highlighted the value of representation on-screen and how to avoid ageist stereotypes that are so common in Hollywood. Sally Field reflected on why she was so drawn to the movie, which chronicles four friends on a mission to see Tom Brady at the Super Bowl. 
"It was telling a story about older women and it wasn't about your children, it wasn't about your husband, or your next date, or next sexual experience… it was about sports and I think the world undervalues older women and the audience we are."
When asked what advice they would give to the screenwriters, producers, and directors in the audience, Jane Fonda emphasized the responsibility they have.
"... You've got hundreds of people in a dark room for two to three hours – show them something they need to see. Don't show them stereotypes, especially about people who are always stereotyped."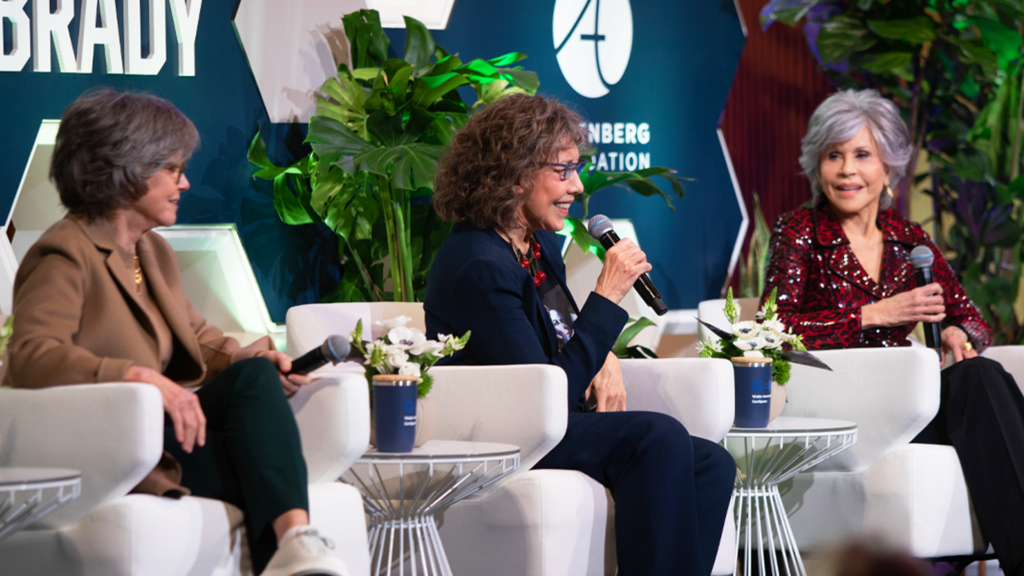 The movie screening and panel discussion were made before a packed house, which included 90 GenSpace members. The film's producer Donna Gigliotti emphasized that making films for an older audience is good business. 
"It's just a fact that people want to see themselves and their own experiences up on screen so lean into it."
Annenberg Foundation Executive Director, Cinny Kennard opened the program and emphasized why the movie is so important.
"It stars beautiful older women in their prime doing some of the best work of their lives and it shows us that aging isn't a curse, but an opportunity – to be vibrant and to be funny and to be purposeful and to be relevant. It shows us that every single age is vital, every single age is important, and every single age is time for love, laughter, and a lot of fun."
Director, Dr. Jennifer Wong closed the discussion highlighting GenSpace's ongoing commitment to changing the narrative on aging. 
"Together with this community and our members, we launch a new conversation about aging and impact for breaking the mold on how Hollywood can be a leader to defy stereotypes about older adults on-screen."