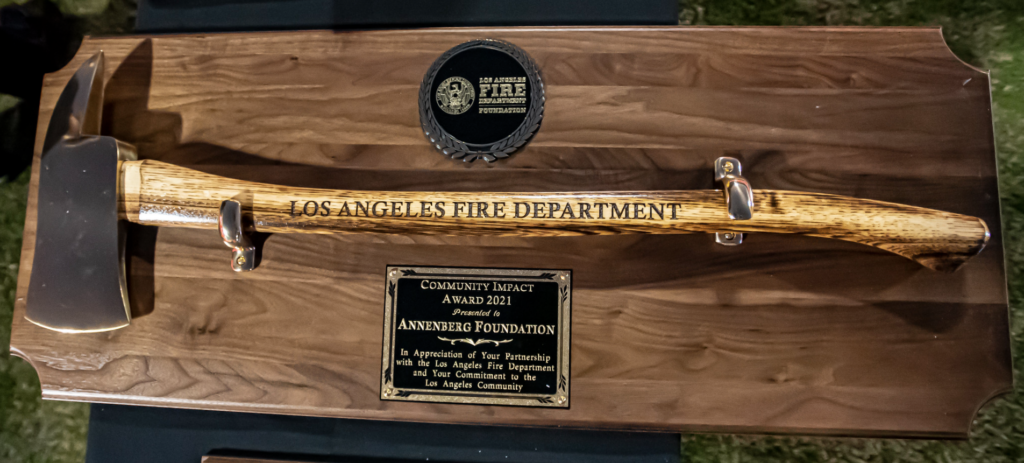 Wallis Annenberg and the Annenberg Foundation were presented with the LAFD Foundation's Community Impact Award today at the LAFD 2021 Valor Award Ceremony. The LAFD Foundation's 2021 VALOR event took place at Dodger Stadium, and was dedicated to honoring exemplary LAFD members for outstanding service above and beyond the call of duty.


"No other community organization has come close to matching the support provided by the Annenberg Foundation."

This year's challenges that arose due to COVID-19 left the LAFD stretched thin, but thankfully, Wallis Annenberg and the Annenberg Foundation were able to lend a helping hand in funding the administration of vaccines for Angelenos in the city's hardest-hit communities. 
This past March, at the peak of the pandemic, the Annenberg Foundation partnered with the LAFD Foundation and announced that 100 older adults and community members were vaccinated at a pop-up clinic hosted at the Karsh Family Social Service Center in Koreatown. Later in August, Annenberg provided more than 1,000 COVID-19 vaccinations at a walk-up vaccine clinic in Century Park. Many Annenberg colleagues volunteered on-site at the clinic and we were able to provide vaccines to LA County adolescents, ages 12-15. At the same time, the Annenberg Foundation supported vaccine pop-up sites for Los Angeles' seniors and underserved communities.


"It's very important that the hardest hit by this crushing pandemic aren't the last to be vaccinated… We have to do more to make sure that the vulnerable, the isolated, and the elderly get vaccines quickly and safely, so they can rebuild their lives."

The Caruso Foundation and the Annenberg Foundation were the only two civilian groups that received recognition at the ceremony for their dedication and support of the LAFD Foundation and the Los Angeles community: